Kangaroo Island 2 Day Tour
Weekend Itinerary for Kangaroo Island
*These are not tours that we run they are suggestions on things to see and do on Kangaroo Island
Day 1
Kangaroo Island 2 Day Itinerary
Arrive at Penneshaw
9am Ferry from Cape Jervis
The SeaLink Kangaroo Island goes everyday from Cape Jervis and is only a 45 minute ride to Penneshaw, KI.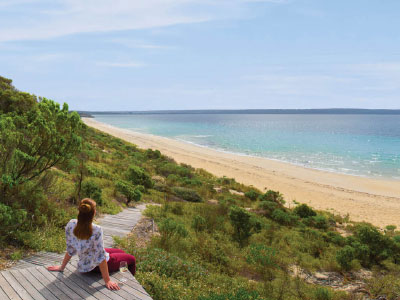 Treck the Sand
10am Take a stroll on Browns Beach
Just a 10 minute drive from the Ferry we recommend heading straight off into the wonderful coastal stretch called Browns beach.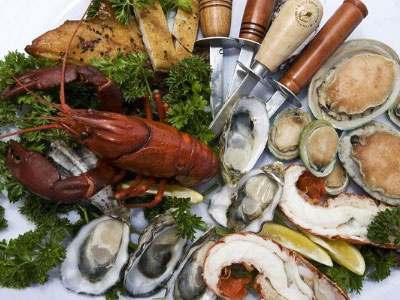 Seafood at it's finest
11am Eat the freshest seafood
20 minutes from Browns Beach is American River. This is a beautiful little spot that has the Oyster Farm Shop. Kangaroo Island is famous for it's wonderful seafood, so be sure to grab the best right here.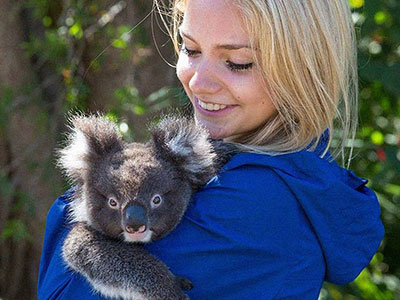 Kangaroo Island Wildlife Park
Explore the Wildlife Park
1pm Kangaroo Island Wildlife Park
Kangaroo Island Wildlife Park is open everyday and is the best place on Kangaroo Island to get up close with beautiful Australian animals. Koalas, kangaroos, dingos, little penguins and hundreds of native creatures. This is a must do on your K.I trip!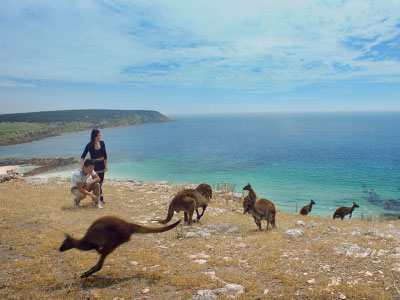 Get stoked for the beach
5pm Stokes Bay
20 minutes north of the Wildlife Park is Stokes Bay. This is a gorgeous beach with kangaroos, fantastic views and maybe the perfect spot for a quick dip!
Check out this awesome 360 degree video of Stokes Bay's kangaroos.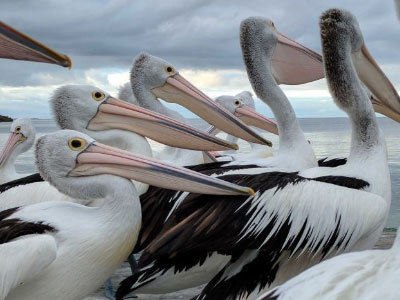 Kingscote Pelicans (photo by ABC)
Rest up in Kingscote
7pm Eat the freshest seafood
Rest up in Kingscote for the night. Dinner is available every night at Ozone Hotel.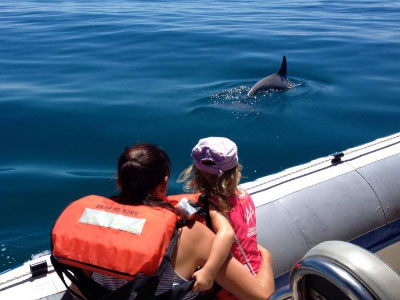 Kangaroo Island Marine Adventures
Swim with Dolphins
9am Dolphin Swim Tour
When you are in Kangaroo Island you have to take a dolphin tour! KI is famous for the wonderful marine life so be sure to take a morning trip with KI Ocean Safari and get up close with fur seals, sea lions, dolphins and even whales!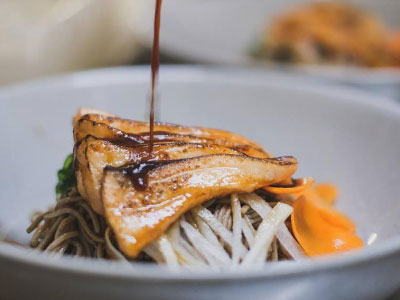 Cactus – Coffee, Food, Bar
Lunch in Kingscote
12pm Cactus 
For lunch you could stop by the beautiful Cactus. This place is perfect for lunch always serving up new and exciting meals. Be sure to check out Cactus' Facebook for the latest menu.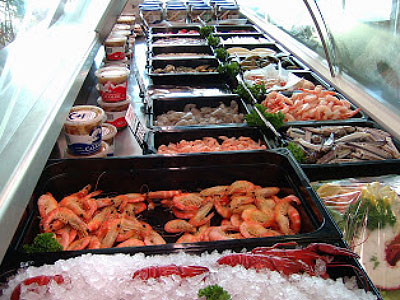 Kangaroo Island Fresh Seafoods
Lunch in Kingscote
12pm Kangaroo island Fresh Seafoods
If you want to experience more of Kangaroo Island's famous seafood then Kingscote has you covered. For lunch go to Kangaroo Island Fresh Seafoods and pick up fresh fresh seafood to dine in or takeaway.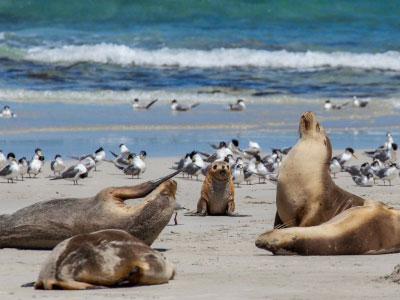 Take a Seal Tour
1.45pm Seal Bay Tour
When your on Kangaroo Island you have to do a seal tour. This 45 minute tour takes you to the heart of a wild colony of Australian Sea Lions. 100% wild, 100% amazing.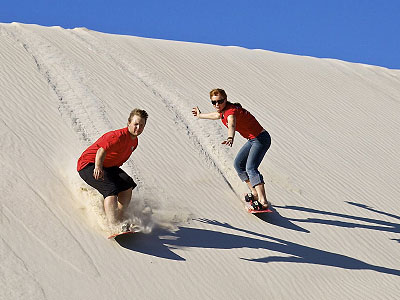 Kangaroo island Outdoor Action
Sandboarding Little Sahara
3pm Little Sahara
Just a 10 minute drive away from Seal Bay is the Little Sahara. Here you can rent Sandboards or Sand-Toboggans to surf down the beautiful sand dunes of the Little Sahara. 1 hour is plenty of time as you'll be tired out very quickly from all the action!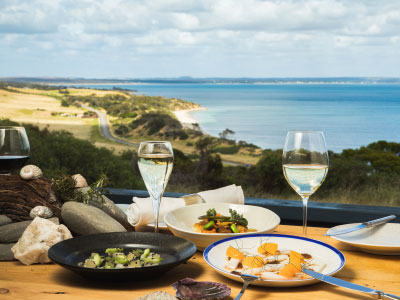 Meal with a view
5:45pm Sunset Food and Wine
Now we'll head back towards Penneshaw for the ferry. On the way, stop at Sunset Food and Wines for a gorgeous meal to finish off your amazing 2 day Kangaroo Island Trip. Be sure to check their opening hours first!